Today, we're looking at the cheapest dual fuel cookers in the UK. If you're on a budget, the cookers below will be the perfect cooking companion for you.
We'll also have a few answers to dual fuel cooker questions below. But first, let's look at some cheap but surprisingly good dual fuel cookers, shall we?
Cheapest Duel Fuel Cookers in the UK
1. Refurbished Indesit I6G52X 60cm Single Oven Dual Fuel Cooker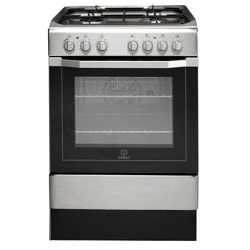 Main oven capacity: 58 litres
Dimensions: W60 x H90 x D60cm
Energy rating: B
This refurbished cooker from Indesit would be perfect for a smaller household. It has one electric oven of 58 litres and four gas rings up top to allow you to cook up a storm.
The electric oven doesn't have a fan, but it does have grill and defrost modes. There is also a handy compartment below the oven to store all of your baking trays, saving you some cupboard space.
This is a very simple cooker to use. The controls are clearly laid out, and they are very responsive when controlling the gas hob.
While this cooker is quite simple and this may put some cooks off, we think its simplicity is the best thing about it. If you want a small cooker that is really easy to use, this is a great deal for you.
2. Indesit IS5G4PHSS 50cm Dual Fuel Cooker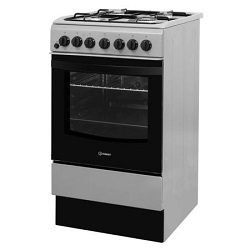 Main oven capacity: 61 litres
Dimensions: H90 x W50 x D60cm
Energy rating: A
This is a fantastic oven if you really don't enjoy cleaning your oven! It features Indesit's Diamond Clean technology. So, just run the 35-minute programme, and all of the burnt-on food in the oven will wipe away easily! You can also remove the glass oven door to make cleaning that much easier too.
This oven isn't all about cleaning, though; it can cook up a storm as well. It has a 61-litre oven that acts as a grill too. And four powerful gas hob rings up top.
It also has a warming drawer below the oven for storing baking trays and things like that. For a couple or small family, this dual fuel cooker is a brilliant idea at a great price too.
3. Bush DHBDFDBL60BX 60cm Double Oven Dual Fuel Cooker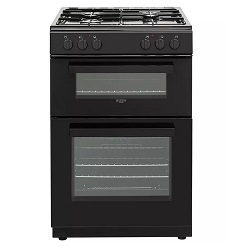 Main oven capacity: 58 litres
Dimensions: H90 x W60 x D60cm
Energy rating: A/B
This is the first oven on our list to feature two ovens and the first to have a fan oven. The main oven on this cooker has a 58-litre capacity and is fan-assisted to push hot air around the cavity and ensure a steady temperature. The top oven is a grill and a conventional oven with a 36-litre capacity.
Almost all of the surfaces on this cooker are enamel, including the pan supports. This really helps with keeping the stove and ovens nice and clean.
A simple wipe after the hob has cooled down, and it will be clean and ready to go. This dual fuel cooker also has a very sleek, black design, which will work in just about every kitchen.
4. Indesit Cloe IS5G4PHX 50cm Dual Fuel Cooker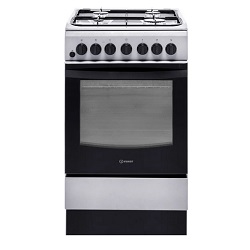 Main oven capacity: 61 litres
Dimensions: H90 x W50 x D60
Energy rating: A
We love the sleek design of this dual-fuel cooker from Indesit. It has one oven that is a conventional oven, so heat rises to the top of it. However, once you're used to using this type of oven, cooking with them is nice and simple.
The oven also features a defrost feature which comes in really handy throughout the week when you've forgotten to remove things from the freezer the night before.
It also has a steam cleaning function and enamel hob supports to speed up cleaning and ensure the cooker always looks its best. The functions of this cooker are nice and simple to use, and the control knobs make setting everything really simple. However, the design will provide a beautiful addition to any kitchen.
5. electriQ EQDFC360WH 60cm Dual Fuel Cooker with Double Oven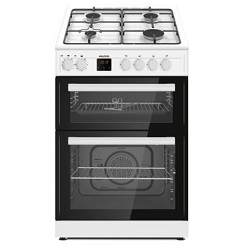 Main oven capacity: 60 litres
Dimensions: H90 x W60 x D60
Energy rating: A
Finally, we have a very spacious dual fuel cooker. This has a 30-litre top oven that doubles as a grill, a 60-litre main oven that is fan-assisted and four gas hob rings that are very simple to control. It also features wide glass doors on both ovens to allow you to clearly see what's happening in both. It is finished in a gloss white to add some lovely style to even the most modern of kitchens.
This dual fuel cooker looks great but functions even better. We love that this cooker has lots of features, but that all of them are very easy to control. So, if you need a big cooker but aren't too fussed about it having tonnes of complicated features, this one is ideal. It may be one of the cheapest dual fuel cookers in the UK, but it still has plenty of cooking power.
What Does my Kitchen Need for a Dual Fuel Cooker?
If you are replacing a dual fuel cooker, then your kitchen probably already has everything you need. Installing your new dual kitchen will be very simple.
However, if this is your first dual fuel cooker, chances are you won't have all of the connections you need to make the cooker function.
Most homes in the UK are set up to run either gas or electric cookers. So, you'll have one connection ready, but you'll need to have the other connection installed correctly.
If you already have a gas oven, for example, you will need to have a 32-amp cooker circuit installed. The price of this circuit varies greatly depending on where you live and even which local electrician you choose.
The same goes for the gas connection. So, do shop around to find the best local tradesperson to install the connection for you.
A rough ballpark figure for these connections is £100-£200 each. You will likely only need one, though, unless, for some reason, your home has never had a cooker in it before.
Is Dual Fuel Better than Just Gas?
Many bakers and cooks love dual fuel cookers as they offer the speed and control of gas on the hob rings but the constant and steady temperature of electric in the ovens.
Gas ovens are not the most stable; the temperature can fluctuate by 20 degrees or more throughout the cooking process.
A good electric oven doesn't have this issue and can usually stay within 10 degrees of the set temperature for most of the cooking time.
If you make a lot of sauces or jams, for example, a gas hob is almost vital. You can really dial in the temperature on a gas hob. As you're controlling a flame rather than a red ring of hotness, what you do to the control knob has a direct impact on the pot or pan you're cooking with.
If you do a lot of baking, though, an electric oven is perfect. They keep a very constant temperature, so baking cakes is so much easier. So, it's as if dual fuel cookers were built for making a Victoria sponge with homemade jam!
Should I Install a Dual Fuel Cooker Myself?
You can hook up the gas of a dual cooker yourself, but you must get that connection checked by a gas safe registered engineer before you start using it.
You also can't connect an electric cooker to its circuit by yourself. You need a trained electrician to do this part for you.
So, while you could connect the gas, there really isn't much point. You might as well have your dual fuel cooker installed by the pros.
Most of the big retailers do offer installation on most types of cookers and will send a qualified engineer out to install it at the same time as delivery. However, during our research, we couldn't find a clear answer from AO, Appliance Direct or Currys, for example, as to whether they will install a dual fuel cooker when they deliver it. We know that they can't unless you have all connections in place already, but whether they will provide a gas-safe engineer and an electrician to safely install your dual fuel cooker is unclear.
Conclusion
We hope this look at the cheapest dual fuel cookers in the UK has been helpful and that you found a cooker in your budget.
The refurbished Indesit I6G52X was the cheapest dual fuel cooker we could find. It has a large oven and a brilliant design that will make your kitchen look great for years to come.
Don't forget, we have lists like this for loads of cookers. We've recently published a roundup of the best dual fuel cookers overall in the UK too, some of which are not too much more expensive than these budget ones. So, make sure you check out Chef's Pick further for all the cooking options and cookware you could ever want.

Scott is a writer and a passionate home chef. His passion for cooking began when he was 10 years old. Scott has been writing professionally for over five years now and loves to combine his passion for cooking with his day job.