If you're looking for a home oven with a very high temperature for a specific recipe or cuisine, knowing where to start can be tricky since most domestic ovens will only go up to 230 to 250 degrees Celsius, depending on the brand.
You will even find that most commercial convection ovens will only reach 270 degrees Celsius.
Fortunately, there are some options available on the market that will enable you to reach higher temperatures for those tricky recipes, or that have handy features that negate the need for very high temperatures.
Hottest Electric Ovens
Electric ovens are an incredibly popular choice, and as a result, the market today is awash with a whole host of brands manufacturing electric ovens.
The majority of these ovens will have a maximum temperature of around 250 degrees Celsius, however, some NEFF ovens have a maximum temperature of 270 degrees Celsius.
NEFF N50 Slide&Hide B3ACE4HG0B Single Electric Oven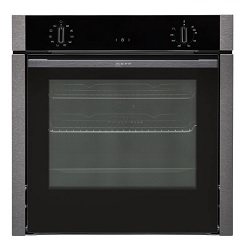 Type: Single integrated electric oven
Energy rating: A
Maximum temperature: 270 degrees Celsius
This single electric oven from NEFF is packed with features that will make dinner time an ease. It has settings ready for a range of different foods, and the telescopic runners make checking on your dinner easy without the risk of spills.
With a 270°C maximum temperature, this oven has more than enough range for typical day-to-day cooking. The inside of the oven even has catalytic liners to absorb grease, and a steam function to loosen burned on food to make cleaning a breeze.
The NEFF N50 even has a handy timer to turn the oven off when the meal is ready. Users love how easy this oven is to use, and that the slide and hide door is a real bonus.
NEFF N30 U1CHC0AN0B Double Electric Oven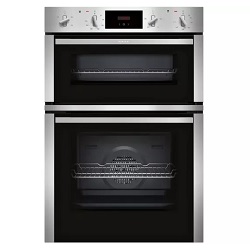 Type: Double integrated oven
Energy rating: Cavity 1 – A, cavity 2 – B
Maximum temperature: 270 degrees Celsius
A double oven can help you make light work of even the largest family meals, and the range of features in the NEFF N30 double electric oven take this one step further.
The grease-proof enamel coating makes cleaning easy, and the dials and touch display are easy to read and use. With a maximum temperature of 270°C, this oven is perfect for just about any dish you could dream of.
This oven uses NEFF's unique Circotherm technology to evenly distribute the hot air, helping maintain an even temperature throughout the entire oven.
Thanks to the unique way this fan works, there's no flavour transfer, which means if you really want to, you can roast a joint of meat and bake a cake at the same time.
Hottest Combination Microwave Ovens
Since combination microwave ovens are much smaller than regular ovens (in fact most are only slightly larger than regular microwaves), they're a popular choice for people with really limited space but still want to be able to enjoy oven-cooked meals.
This could make them a great option for people such as students in shared housing or residents in small flats. Like regular ovens, there are both built-in and freestanding options available.
Combination microwave ovens come with a range of maximum temperatures, with some even capping out at less than 200°C. Fortunately, there are a few options on the market that get nearly as hot as a regular oven.
Bosch Series 4 CMA583MS0B Microwave Oven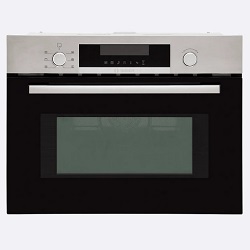 Power output: 900 watts
Capacity: 44 litres
Maximum temperature: 240 degrees Celsius
With a 240°C maximum temperature, this combination microwave oven gets almost as hot as a regular oven, which means you'll be able to easily cook just about any recipe you can dream of.
The 900 watt power output means that you can microwave food quickly and evenly, and the choice of 15 automatic programmes makes cooking food perfectly easy.
You can even use this microwave oven to cook the meat for your Sunday roast as the powerful fan helps everything to cook evenly, and the grill feature can give a perfectly crispy finish, without drying out the inside.
NEFF N50 C1APG64N0B Microwave Oven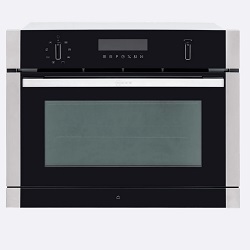 Power output: 1000 watts
Capacity: 36 litres
Maximum temperature: 240 degrees Celsius
This oven might be more expensive and have a smaller capacity than some of the others available on the market, however it has a selection of features that help it stand apart from the rest.
The NEFF N50 microwave oven has a unique fan system to cook food evenly, and it can even inject bursts of steam whilst you roast or bake for perfect results every time. This steam function can even be used to help you create healthier meals by trapping in all the nutrients and goodness.
The LCD is easy to read and simple to use, so keeping an eye on the family meal, even in hectic households, is a breeze.
Users love the smart appearance of this microwave oven and how handy the steam function is, and that the range of automatic cooking programmes will help to make light work of any meal.
Pizza Ovens
Being able to create genuine, Italian-style pizza is the reason that many people will start shopping around for a home oven with a high maximum temperature. After all, this style of pizza is supposed to be cooked at a high temperature very quickly.
If this is your aim, there's no beating a dedicated pizza oven, as regular household ovens will simply not get anywhere near as hot.
Whilst regular ovens cap out at less than 300 degrees, pizza ovens can reach temperatures of up to a staggering 500 degrees Celsius. Perfect for pizza night.
ROCCBOX Gozney Portable Outdoor Pizza Oven

Maximum temperature: 500 degrees Celsius
This dual-fuel portable outdoor pizza oven can be used either with a wood-fire or gas to reach dizzying temperatures of 500°C. Despite this extraordinarily high temperature, the outside of this pizza oven is designed to reduce the chances of burns and keep the heat in.
The pizza oven is compact and portable, and the retractable legs make it even easier to stash away when it's not being used.
The bottom of this oven has a 19mm thick stone floor to help cook your pizza from the bottom up, resulting in that stone-baked taste we all know and love.
Users find this oven incredibly easy to use, and that the high temperature will help you have perfect pizza in no time.
Ariete 917 Pizza in 4 Minutes Multi-use Pizza Oven

Maximum temperature: 400 degrees Celsius
This Ariete pizza oven is an affordable choice that, unlike many alternatives, can actually be used indoors.
Despite this, this pizza oven can still reach temperatures as high as 400°C, so you don't need to compromise on the taste of your pizza just because you're trying to avoid the British weather.
This pizza oven is a little different, however, in that it's also been designed to be used for other foods. From reheating croissants to keeping chicken and potatoes warm for longer, this Ariete pizza oven is the perfect addition to just about any kitchen.
Pizza Stones
Of course not everyone who wants to take advantage of the hot temperatures of a pizza oven actually has space for one. They are pretty large after all!
If you want to cook perfect pizzas without the dedicated oven, a pizza stone might just be right up your alley. Pizza stones are simply placed in a regular oven to preheat with the oven, and then pizzas are placed directly on top. This gives the stone-baked crust feel and is much more accessible if space is at a premium.
HANS GRILL Pizza Stone

If a pizza oven isn't an option, a pizza stone is the next best thing. This HANS GRILL pizza stone is heat resistant up to a staggering 600°C, which means you can use it in a BBQ, smoker, oven, or just about anywhere you'd like.
A pizza stone cooks pizza in exactly the same way as a pizza oven; from the bottom up to give you a perfect pizza every time. For that extra touch of safety, this pizza stone comes with a long wooden-handled pizza peel to help you move your pizzas around without risking burns.
Conclusion
There are a range of ovens that you can choose from if you need something a little hotter than normal. If you just need something with a maximum of around 270°C, you won't go wrong with the NEFF N50 Slide&Hide B3ACE4HG0B.
If pizza is the goal, you won't beat a true pizza oven when it comes to results, and we'd recommend the ROCCBOX Gozney Portable Outdoor Pizza Oven.

Hannah is a freelance content writer and self-proclaimed foodie. When Hannah isn't sitting tapping at her laptop, you'll probably find her in the kitchen. As an ex-chalet host, she's used to cooking four-course meals for 10+ people and loves feeding friends and family whenever possible.