Many first-time induction hob users can find using their new hob a bit confusing and overwhelming.
Induction hobs are a fantastic piece of kitchen technology that provides amazing control of temperatures, and they heat up incredibly fast too. However, if you don't know how to use an induction hob, you can't take advantage of this heat. So, here is how to use an induction hob.
Don't worry, using this hob type is very simple and once you know how to use this hob, you will love it!
1. Make Sure the Power Is Turned On
Make sure the hob is turned on at the wall – A good first step for any hob, really!
2. Place a Pan on the Hob
Place your pan on the hob ring you want to use – a common mistake for first-time induction hob users is that they either place a pan on the ring after they have turned it on, or they place the pan on a hob ring that is too small for the pan.
Induction hobs have built-in safety features that prevent larger pans being used on smaller hob rings. And many models won't turn on the hob ring until it senses that a pan has been placed on top of it.
Of course, the hob ring won't activate until a pan is placed on top of it, but many models won't even get ready for a pan to be placed on it. So, ensure that you place your pan on the right-sized hob ring and then turn that hob ring on.
3. Turn on the Hob Ring
Hold down the power switch on the hob. This turns the hob on, but not the actual ring you'll be using. Now, you need to select the sensor that relates to the hob ring you want to use. This turns that hob ring on, and you are cooking on the lowest power setting.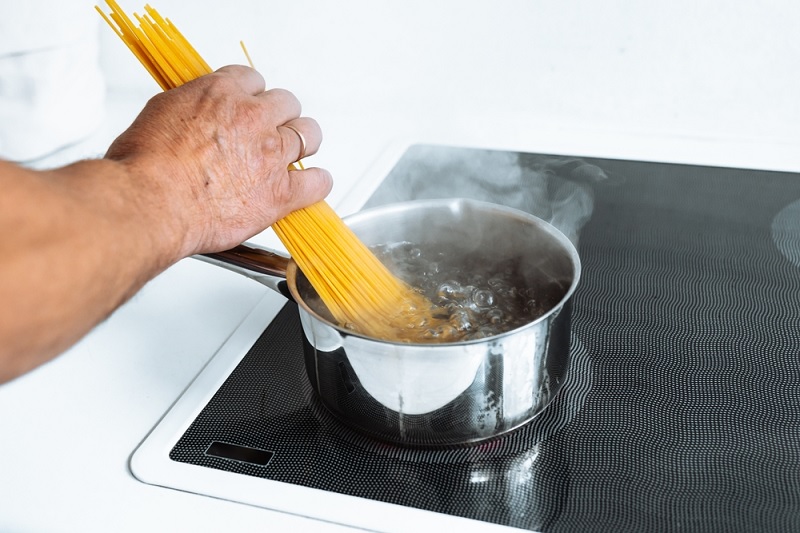 4. Adjust the Heat
To cook on a higher power setting, just adjust the heat with the + and – sensors. Depending on the model of your induction hob, there will either be heat sensors for each hob ring or one that controls all of the rings.
Just make sure that the ring you're using is selected if your model has the central heat sensor. The manufacturer's instructions can help you here.
That is it, that is how to cook on an induction hob. Once you remove the pan from the heat, the hob ring will deactivate, but the hob will still be on, so make sure you turn it off to save some electricity. Still, that is how easy an induction hob is to use.
To find out more about induction hobs and the best cookware available right now for these amazing hobs, please explore our website further. We have all the best induction cookware available right now, and many articles about induction hobs to help you if you've just bought one.

Scott is a writer and a passionate home chef. His passion for cooking began when he was 10 years old. Scott has been writing professionally for over five years now and loves to combine his passion for cooking with his day job.