Electric ovens are available at almost any price you are willing to pay nowadays. Whether you want to pay thousands or hundreds, there's an electric oven in your price range to suit you.
If you are on a budget, though, the ovens we have below could suit you perfectly.
The cheap ovens we have for you may have a small price tag, but they are really impressive and could be a great addition to your kitchen.
So, here are the cheapest electric ovens we could find in the UK at the time of writing. We've ordered them with the cheapest first, but bear in mind that prices fluctuate a lot, so we can't guarantee the order will be correct when you read this!
The Cheapest Electric Ovens in the UK
1. Bush BIBFOSAX Built In Single Electric Oven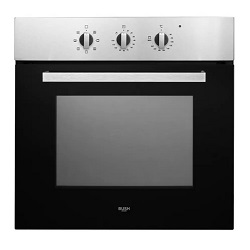 Specifications
Energy rating: A
Triple glazed oven door
6 functions
Well, Bush has created such a nice-looking oven here with easy-to-use controls and plenty of functions and features, so even a seasoned chef will love using this oven.
Now, Bush has called this a "smart oven", but don't get your hopes up. You can't control this oven with your phone or anything like that, but it does have defrost features and multiple ways of grilling and cooking.
While this isn't a "smart oven", it certainly would suit a modern kitchen in design and function and make cooking daily meals for a family a lot easier.
The thing we love most about this oven, though, is the controls. Each function is on a dial, and there is also a handy minute minder timer too.
So, you can quickly switch to different cooking functions and keep track of what you're cooking too.
Where to buy it:
2. Logik LBMFMX21 Electric Oven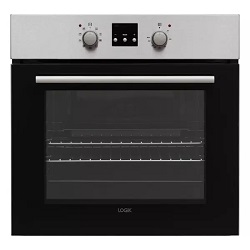 Specifications

Energy rating: A
65-litre capacity
Enamel liners
How Logik packed so much into this cheap oven and still kept the cost as low as it is, we'll never know.
This is a 65-litre oven, which is plenty big enough to cook for a couple or even a small family. Everyday meals will comfortably fit in this oven, although you may struggle with Christmas dinner.
Amazingly, this oven comes with loads of features to make cooking even easier too. It has a defrost function, fan and conventional settings and plenty of grilling options too. This oven even has an energy rating of A.
The only drawback to this oven is it is a single oven which limits the cooking space you have a bit, but that can be said for a more expensive single oven too.
Other than that, it is a solid oven that is easy to use and incredibly cheap for the oven you are getting.
Where to buy it:
3. New World NWCFBOSX Built-In Single Electric Oven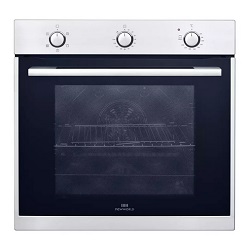 Features
Easy clean enamel liners and glass door
Two oven shelves
Energy rating: A
This oven is all about keeping the cleaning easy. The enamel liners help greatly here, but so does the removable glass door.
You can simply pop out the glass in the door and leave it to soak in the sink as you wipe away any burnt-on food from inside.
There are five cooking functions on this oven too, so cooking is easy as well. There are fan and grill options as well as defrosting modes and even more.
The oven also has a handy light, so whether you use this oven for a built-in or built-under, you can keep an eye on what you're cooking.
This is a stylish oven with plenty of features to make cooking fun and enjoyable.
Where to buy it:
4. SIA UB01SO Single Electric Fan Oven

Specifications
Energy rating: A
2-year manufacturer guarantee
59-litre capacity
While SIA may not be a cooker brand that you've heard of, they are offering a fantastic oven for a brilliant price here that is really worth considering.
While this oven is on the small side (at just 59 litres of cooking space), it does have plenty to offer you.
Firstly, it comes with two cooking shelves and a grill. Most of the other ovens on this list only come with one cooking shelf.
This is a fan-assisted oven with a grill that has a few settings to make the most of both features. It also comes with a mechanical timer that is nice and easy to use.
If you are after an easy-to-use oven with a few functions that looks nice and stylish, this is an ideal choice.
Where to buy it:
5. Logik LBFANX16 Electric Oven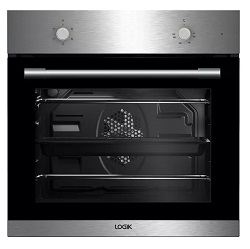 Specifications
Energy rating: A
66-litre capacity
Stylish design
The first thing we noticed about this oven was the lovely modern design. It has two control knobs set into a brushed stainless-steel fascia and a beautifully designed full-width handle.
The style of this oven really sets it apart from some of the others on this list. But if you'd like an easy-to-use oven, this is also a solid choice for you too.
The two control knobs have everything you need to make using this oven simple. The clear markings for each of the cooking modes mean you can quickly get to cooking. And the temperature control is really easy with the other control dial.
This oven has the looks of one double the price, and with 66 litres of space, it is an oven that will work perfectly for a small family or a couple of years to come.
Where to buy it:
Is Buying a Cheap Oven Worth It?
Buying a cheap oven can be a great way of saving some money, as long as you buy the right oven. There are a few things to look for in cheap ovens.
After all, there is a reason why these ovens are so inexpensive. That's not to say that cheap ovens are rubbish, far from it in some cases, but let's face it, some are.
So, to avoid buying an oven that is going to start costing you money, here are some things to consider.
Features
Most of the ovens on our list have plenty of features and functions to choose from. Most of the functions are for using it as a grill or an oven, so don't be afraid of single ovens with lots of features like this. Most of the time, the functions are easy to set and use.
When looking for a cheap oven, particularly if it's a single oven, you'll want to find one that has a good number of functions.
You may not need a defrost mode, or a broiling mode, for example. However, having an oven with different grilling modes and fan options can make a real difference and make cooking really easy.
Energy rating
All of the cheap ovens above have an energy rating of A, which is awesome. We wouldn't recommend buying an oven with a low energy rating, as this will cost you more in your energy bills in the long run.
If you're looking for an oven that is cheap because you are on a budget, buying one with a lower energy rating will cost you money in the future.
So, if it comes down to a few pounds either way, always choose the oven with the better energy rating; your wallet will thank you in the end.
Build quality
Now, build quality is a big factor in cheap ovens. A lot of cheaper kitchen appliances are not built to last and do not have spare parts available if they go wrong.
We can't say how well an oven is built because we haven't been to the factory where they are made.
However, we can recommend you look at the manufactures guarantee. A guarantee of two or more years suggests that the oven will last a good amount of time.
You can also visit the manufacturer's website to see if spare parts are available for the oven you intend to buy. That way, if anything should go wrong with your cooker, you don't need to buy another one.
Installation costs
If your oven needs hardwiring into a cooker circuit, you will need to hire an electrician to do this for you. Installation costs for ovens vary depending on where you buy the cooker from, and some retailers don't offer installation at all.
It will be up to you to hire an electrician to install the oven for you. So, when you're looking for a cheap oven, remember to look for installation costs as well.
That way, you can factor these costs into the price of the cost and won't get a shock at the checkout.
In Conclusion
Buying a cheap oven can be a great way of getting a functional and nice-looking oven without spending the earth. Just remember to factor in installation costs and look at the features and functions of the oven you are interested in. That way, you can be sure the oven is right for your home.
The cheapest oven we could find when writing this article was the Bush BIBFOSAX, which is a really nice-looking oven for the price. Bear in mind that the prices of ovens go up and down a lot, so we can't guarantee the Bush BIBFOSAX will be the cheapest on the list when you read this article.
Don't forget, Chef's Pick has loads of oven articles. We've explored all of the best ovens to suit any budget and even have some amazing cookware to use in your new oven as well.

Scott is a writer and a passionate home chef. His passion for cooking began when he was 10 years old. Scott has been writing professionally for over five years now and loves to combine his passion for cooking with his day job.