So, you're looking for a new oven for your kitchen. Whether you fancy upgrading your current oven or you need to replace a broken one, you may be wondering about the sizes of ovens.
Are all ovens the same width? Well, we understand that oven widths are a bit confusing, and articles discussing oven width aren't too helpful until now, hopefully.
Below, we're going to look at ovens and finally break open the mystery of widths once and for all.
Are All Ovens the Same Width?
Just like most other cooking topics, the width of ovens is not as simple as it may seem. You see, depending on the oven you are buying, the widths can be standard, but there are some varieties of ovens where the width varies.
Let's start with built-in and built-under ovens and find out about their widths, shall we?
Built-in and built-under ovens
If you are upgrading or replacing a built-in/under oven, you're in luck. Every model of these ovens has a standard width of 59.7 cm. That includes single and double ovens. They also have a standard depth which is 56 cm.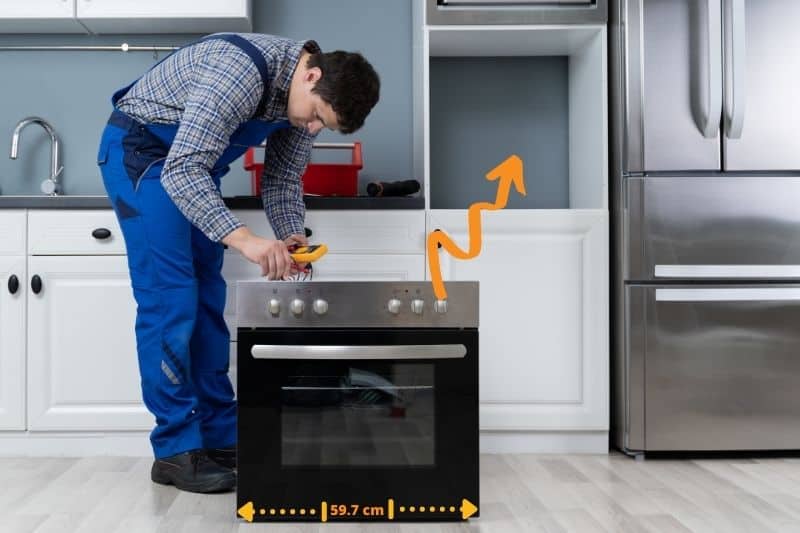 It is worth noting, these measurements are the oven surround or housing unit. The oven itself can vary by a few millimetres either way from these measurements.
However, most built-in and built-under ovens will fit into a standard housing unit.
So, you can be confident that any built-in or built-under oven that you buy will be a direct replacement (in width and depth anyway) to the one you currently have.
Just remember to buy the right model for your needs. A built-in oven has a height of 90 cm. While a built-under oven has a height of 70 cm; so, it will fit under your worktop.
Cookers and range cookers
Now, here is where ovens can get a bit confusing and frustrating. Cookers have three standard widths of 50, 55, and 60 cm. Range cookers, on the other hand, have standard widths of 90, 100, and 110 cm.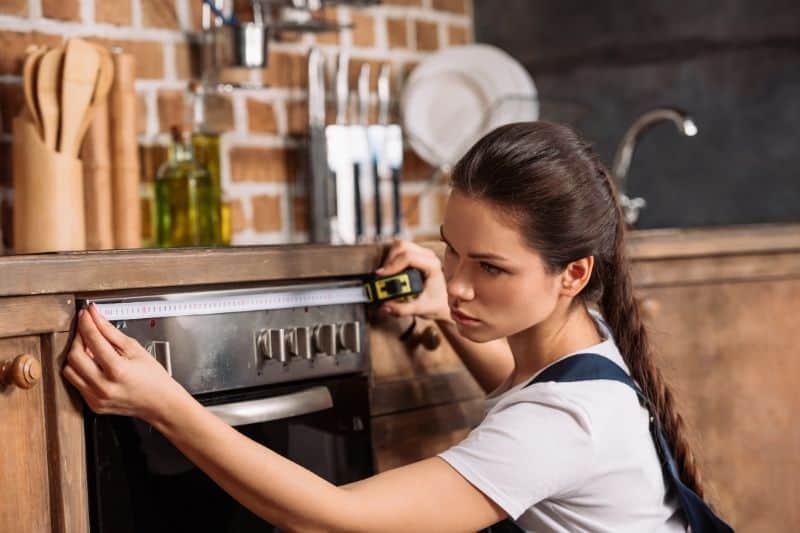 The easiest way of getting the correct oven for your kitchen is to measure your current oven or space where it will be going.
You can also find your oven online (just type the make and model into Google) and then double-check the measurements.
That way, you can buy the same-sized cooker or range cooker and ensure that it fits into the space you have.
Conclusion
While buying a built-in or built-under oven is pretty straightforward, buying a cooker or a range cooker can be a bit more complex.
So, make sure you measure your current cooker and look up the measurements online if you aren't sure. That way, you can be sure that you're buying the right cooker for your kitchen.
We hope this look at oven widths has helped you choose the right cooker for your kitchen. If you aren't sure of the best oven to choose for your kitchen, Chef's Pick could help you with this too.
We have the best ovens, cookers, and range cookers in the UK right now right here. So, make sure you check out our oven articles for the best ovens. Just make sure you check the widths first. We also have all of the best cookware to use in your new oven right here too!

Scott is a writer and a passionate home chef. His passion for cooking began when he was 10 years old. Scott has been writing professionally for over five years now and loves to combine his passion for cooking with his day job.